Annelie Andre, April 15, 2020
translated by Karoline Strys
I was invited to write about life in times of Corona from the perspective of an artist and author. So, art is in crisis. Where does it start? Where do I begin? With all my jobs and projects being cancelled until the end of summer? That on some days I find myself full of beans for kooky plans and on others I am utterly lethargic, staring at the ceiling or watching trivial series? With having no clue about how dance or the world will continue or with having danced enthusiastically with my Indian colleagues on Zoom the other day?
First of all I am overwhelmed and I am going to let the last weeks pass in review: a roller coaster ride. Pending in between genuine concerns, an increasing ease and the tingling excitement of being part of an epochal event.
When I scroll through social media (which currently I do quite often) I see a lot of dance. People improvising in their kitchens, people uploading past productions or offering online dance classes. Renowned theater houses open their archives and thus, bring the great theater into our living rooms. Yet, why do we take it for granted again to provide arts and culture for free?
The crisis had been there in the first place
We always have made art for little money. We dived passionately into low-budget projects – at least for the visibility. We had been shrugging off that we are financially scarcely secured. We initiated projects because, well, it is satisfying to collaborate with colleagues who are willing to work on a bigger something and sharing one vision.
And suddenly, supposedly out of nothing, we artists find ourselves in an existential crisis. Yet, the crisis had been there already before. Deadlocked power structures in bigger houses, the still existing gender pay gap, mostly untransparent income distribution and anyways – the free scene consists of too many artists and too little money. Most of us are jobbing in bars, in the social sector or at the theater box office in order to do at least something connected to the arts. And now many fear for their existence as there had never been any thought spent on savings. Just now, shouldn't it be an objective that cultural institutions, the free scene and policy makers get into dialogue and stand up for a transparent income distribution?
The more arbitrary the art the more we are at risk of shooting ourselves in the (dancer) foot. There is indeed a confusion, a global irritation that – especially as art makers – now we should encounter by keeping cool but with a warm heart. We have to differ hollow words from truthful and essential sayings – on a political as well as on an artistic level.
I see a lot of things that would not have been published under normal circumstances. So why now? Of course, great art is relative. Yet, I believe that even an amateur can distinguish if a piece of art resulted from a decision and honest research or if it is based on empty casings that want to be loud but do not say anything in the end. And no, I do not speak of the momentary conditions that do not always allow technical top performances. Also rough no-budget-do-it-yourself-experiments do have there justification and relevance as long as they are, in their way, authentic and do not pretend to be something else. Playing, experimenting, getting your hands dirty is maybe now more important than ever. No child wastes a thought on if their spaceship of sand is authentic.
Theater does not allow swiping
Dance and theater live on taking the spectators into a new, unknown world, appealing all senses and holding the potential to see themselves anew as a community. Under the current circumstances this aspect ceases to exist: on the web, art mingles with a bunch of other information like news, cat videos, scientific corona reports, music, nature documentaries, financial companions etc. You click here, you click there, the concentration span goes down to a minimum of attention and you hardly ever reach the point of reflecting more thoroughly upon what you've just seen. Here a WhatsApp message, there a call from Mom and anyway I just wanted to hang out the laundry.
At the theater I cannot simply click onwards when it is getting uncomfortable. Only in this state of irritation, these moments of withstanding and exposure, something starts to move. Only then we arise out of our theater seats with the great urge to talk about the experienced. We feel like discussing, relating the piece to our own realities and defining our own view point. When I see a theater or dance piece on screen, not yet clear if I will make it to the end at all, then honestly I do not feel like meeting on Zoom afterwards for an after talk.
And then, even if I manage to rearrange my bedroom into a dance studio in order to be able to peer hard at the video and follow a tinny voice that wants to bring movement patterns into my body, I am not yet satisfied after all. It is like eating fondue – alone.
I want to sweat again – together
Isn't it impressive how art – that is living from the real presence of the body, the mutual experience, the creation of a new world – is being transferred seemingly smoothly into another, a digital medium? Besides the astonishment about the possibilities this involves, it actually gives me a headache. Certain digital formats do well generating connections and many online classes do work well for many. We stay in motion and feel less alone. But it separates us from the actual source, from the potential of the performing arts to heat each other up in the studio or on stage, to be in search of the essence, to criticize and create collective utopias.
A certain void expands here. This emptiness will only be resolved when I will be able to be with other breathing, sweating and fully present bodies in the same space and when I will, presumably, appreciate the world differently. Because we will have melted energies together and transformed spaces.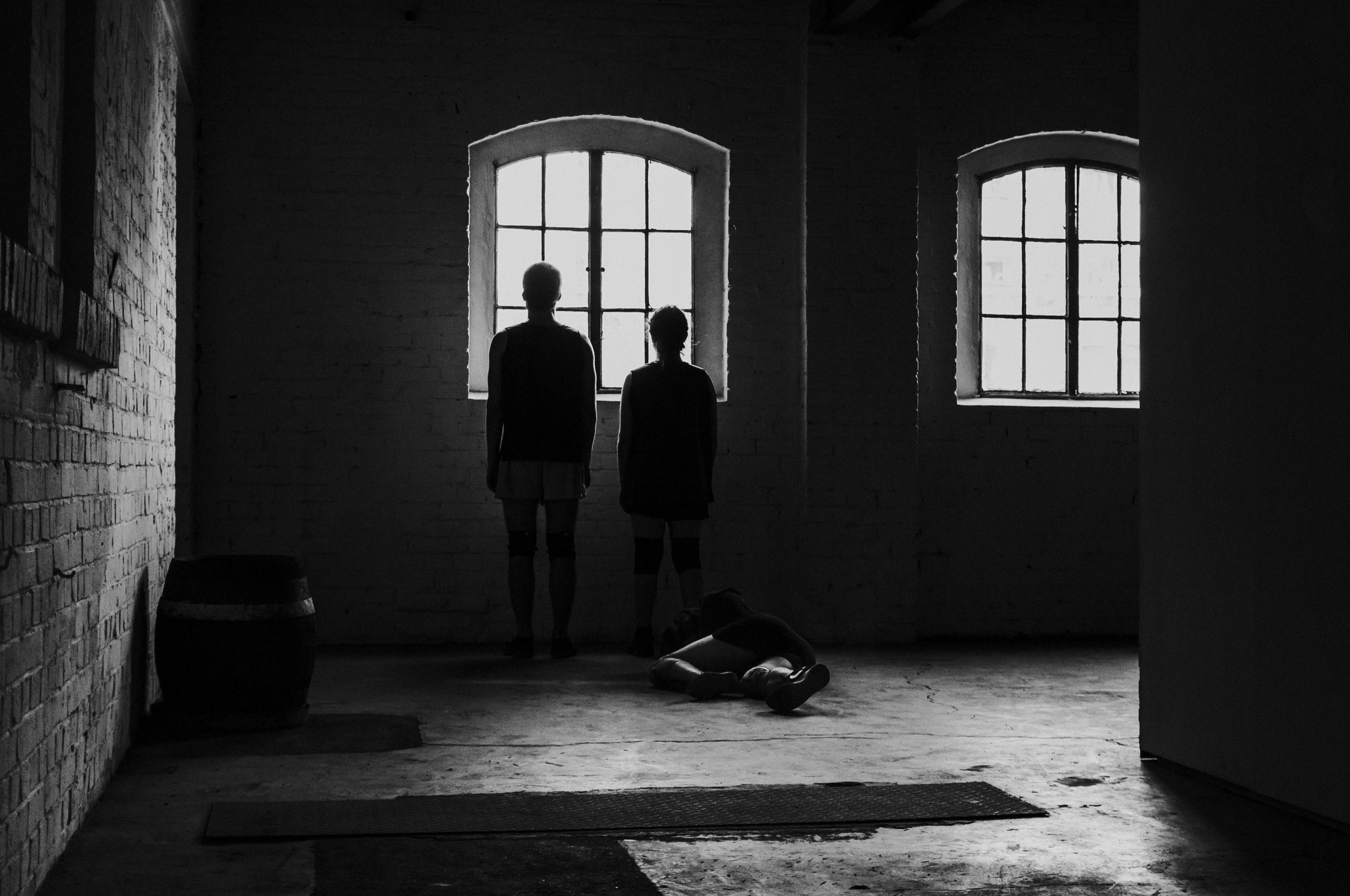 We are all islands
I never had as little (physical) contacts as I have these days and yet I observe an extraordinary sense of solidarity in the free scene of dance. I can feel the existence of a community as it connects and as it is commonly looking for possibilities to encounter the crisis. I am looking forward to the newsletters of Tanzbüro, Kulturförderpunkt, IG Freie Theater etc., who really do a great job in spreading the relevant information about pools of support, petitions and educational offers. Thoughts of competition become irrelevant. We're all in the same boat. Or currently rather: we are all islands hoping to prevent our downfall somehow. Hoping that the sea level won't rise and won't take all the painfully assembled away. Just as much as the islands are dependent on the sea and its streams, so are we as artists dependent on politicians, juries, selection procedures. Isolated we are writing project proposal for proposal for proposal and then: thumbs up or down, further on the yacht or continuing on rafts. I wonder: will this climate ever change? Because: we are always islands. We want to be individual and assert ourselves. We differentiate ourselves from others. My art from yours, my choreographic handwriting from yours. The only thing unique in defining borders and essence is what we are aiming for. Somehow lonely.
What is thus remaining? How can we use this upcoming solidarity in order to build bridges, to support each other, to fight for our vision? We are in need of a change in the cultural climate. I am thinking of concrete measures like a guaranteed basic income; and exactly now is the time to stand up for it. Smoke signals every now and then won't do.
Staying visible – but with what?
Even in times of physical distance it is important to stay visible. But rather in form of social criticism and reflexions about the all along precarious working conditions than randomly blowing confetti onto the web that is – after a short moment of entertainment – disappearing as fast as it emerged.
We are not the ones to embellish the system, nor are we dreamy figures that are there to bring a sparkle of otherness into the grey daily life of isolation from time to time. We keep on working, we develop new ideas and observe the political developments with attention. However, especially now we shall think twice about how we would like to be associated as artists, whom we give our voice and how we use our forces. Now is the time to think beyond our bubbles and selfie-sticks. Why are we so afraid to be forgotten when we do not at least post one dance video or selfie per day? Are we acting out of desperation or is it some kind of self-therapy? As they say: as long as we eagerly keep on producing, as long as we stay visible, as long as we can throw even only one tiny piece of ourself into the online-culture-pot, we feel alive. Yet clicks and likes won't rescue us from our current distress.
I wonder if we present a lot of it simply to be loved. But which kind of love is this and why are we so hungry for it? Much more exciting right now: Which deeper sense do we find inside and outside of our artist-self and where do we find meaning and fulfillment?
We should make ourselves scarce
If we artists would make ourselves scarce for a bit, then what we create would gain power. If we want to be taken seriously we will have to take seriously our own and very human existential fears.
What I cannot have right now I want even more. And when I will get it later, the joy and appreciation will be even greater. This counts for the artists as well as for the audience. So why don't we intensify the detox instead of trying to reproduce our usual routines unreflected on the web?
We are more than what we presumed of ourselves so far. We are more than what we presented of ourselves so far. Research first and then spill it!
Lets make use of this unexpected idle to relax our overheated nervous system and calm down for a bit. And yes, we are allowed to feel helpless and to be slow. Lets rather exchange openly and truly about what the situation does to us, what we perceive, what really moves us instead of restlessly looking for new production possibilities and presentation platforms.
Maybe we should acquire a taste for reinventing our work as artists anew in the future. Namely as human beings that have extremely useful competences at hand that are now more important than ever: the ability to get people together despite physical distance, to search for unconventional and creative solutions, to pose questions and to improvise.
Dance is system-relevant
"Dance is system-relevant!!!", our isolated bodies and minds keep yelling. Yes, dance is definitely system-relevant. But dance won't be more intensively experienced as such when we share things imprudently that actually say very little; when we put ourselves under pressure to press pieces made for the three-dimensional into two-dimensional shadows of themselves; when we constantly – and more than ever before – sell ourselves at a less than fair value.
How to explain our point of view if we won't be able to do this on our known platforms and in physical presence anymore in the near future? How to integrate these new media to our favor and use them as a motor instead of a rideshare? Some things are irreplaceable – the physical touch, the direct face-to-face exchange, the glass of red wine with friends at the theater bar. And yet it requires an experimental, reflected attitude, an openness for digital solutions that – until a certain degree – does have the potential to enable collective experiences and the creation of new perspectives.
We are creative. And we are many. The hunger for art also won't cease due to this crisis. Furthermore, it provides the opportunity to look beyond one's nose and to develop visions for a solidary togetherness. Times of crisis have always generated great art and pioneering ideas – arisen from different forms of distress and isolation. Lets remain with the hope that this time it will be as such as well.